Flexible protection from sun and rain
You want to enjoy nature and fully enjoy the freedom of vanlife? With the Campervan Tarp from The Wildside you spend more time outdoors, regardless of the weather. Whether you need a shady spot or want to protect yourself from the rain, our tarp offers you flexible protection in any weather. The tear-resistant nylon fabric with multi-layer silicone coating and reinforced guy points can withstand strong winds and give you a reliable feeling of security. With almost 215 ft² of surface and a depth of 9.8 ft, you have enough space to sit and relax comfortably even outdoors. Enjoy the outdoors without restrictions and spend more time outdoors with the Campervan Tarp from The Wildside. Experience the freedom of vanlife to the fullest and solve the problem of too little protection from sun, rain and wind.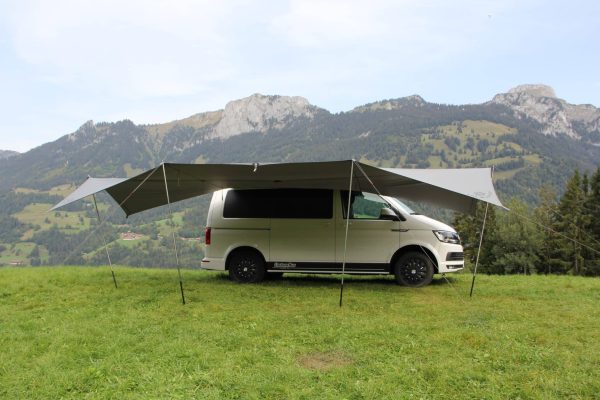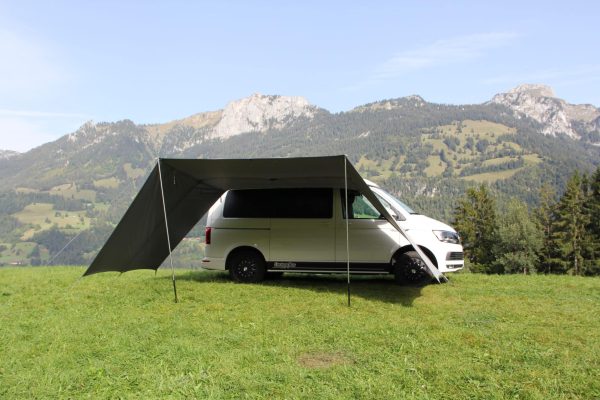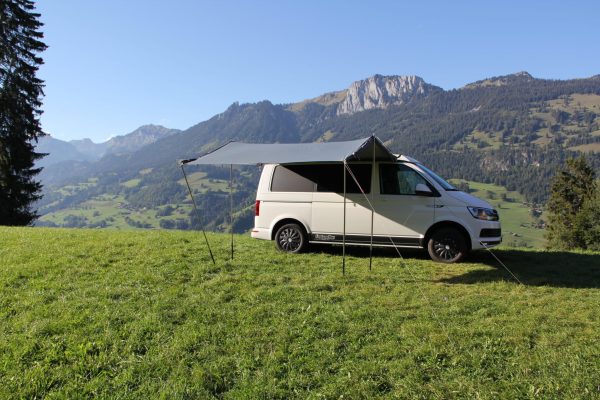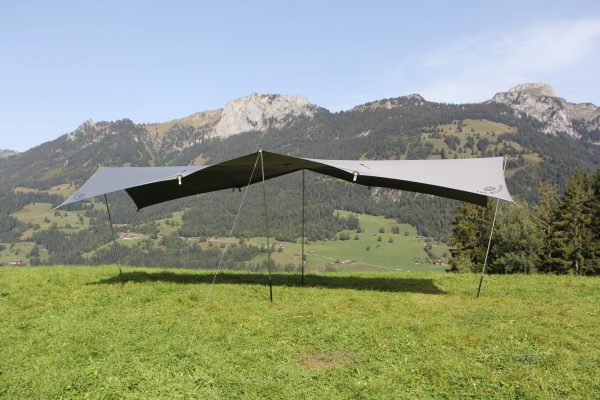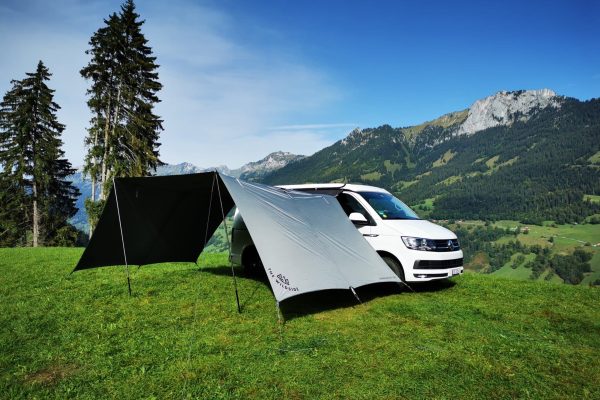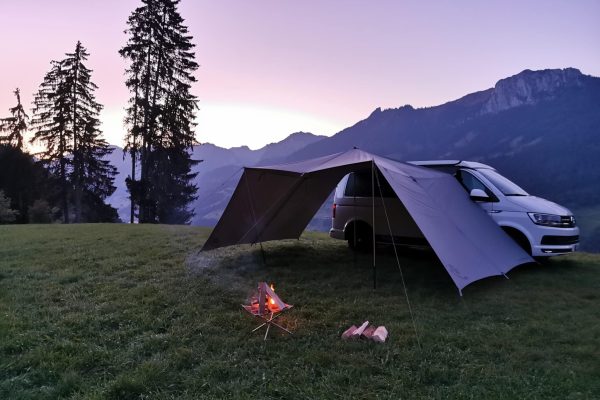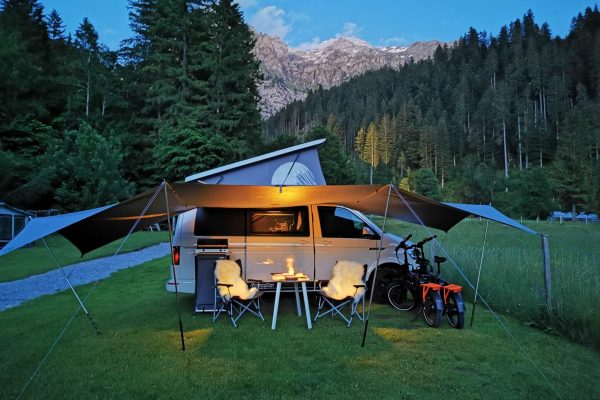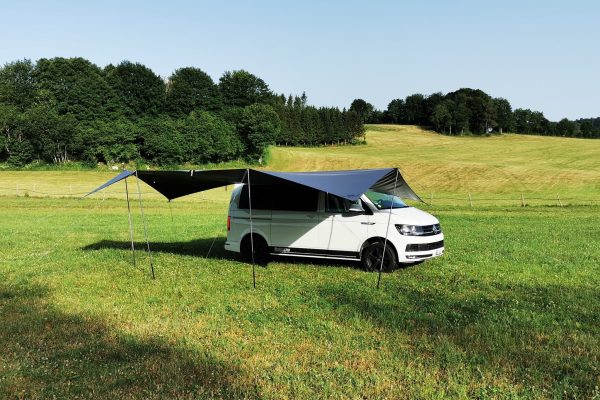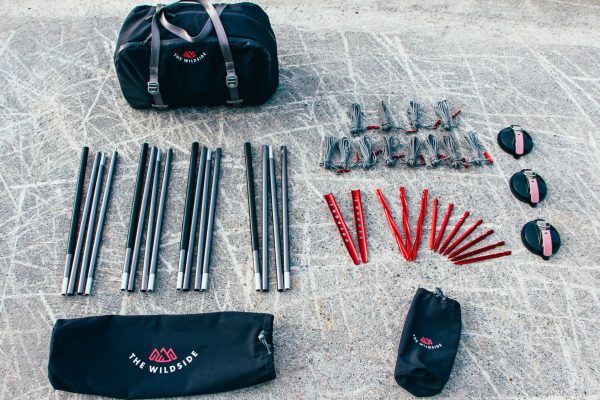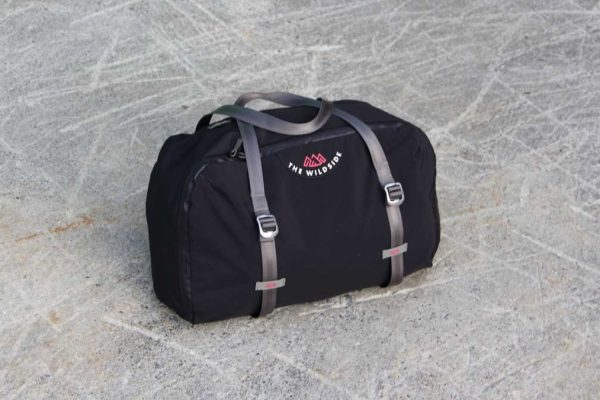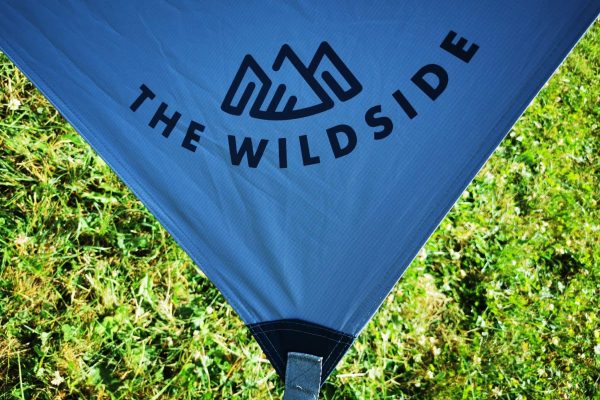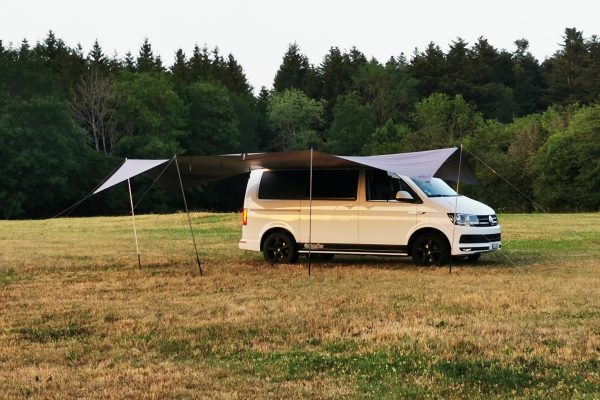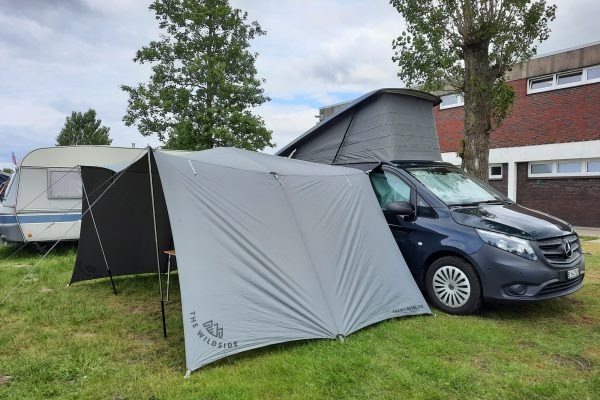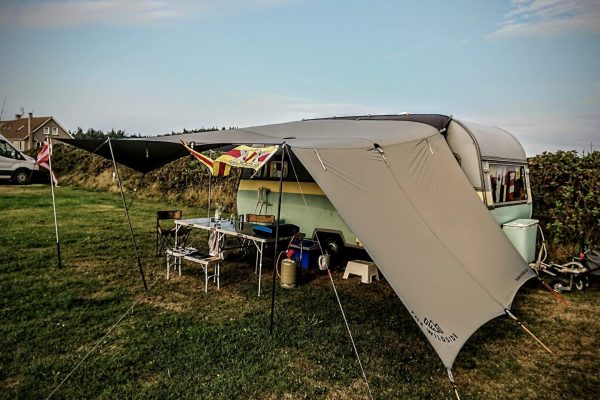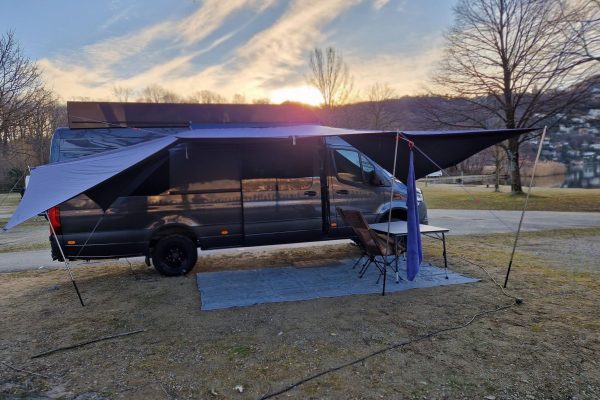 Discover the advantages of The Wildside Campervan Tarp
The perfect equipment for your next vanlife adventure.
With almost 215 ft² of surface and a depth of 9.8 ft, the Campervan Tarp offers more space than most awnings on the market. It can be customized by bracing the sides down or rolling them up. So you have full flexibility to create your outdoor adventure.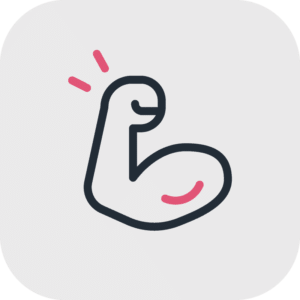 Robustness and durability
The tarp is made of high quality, tear-resistant nylon fabric with multi-layer silicone coating and reinforced guy points to resist wind and rain. The abrasion-resistant Hyperlon inserts in the loops increase the durability of the tarp. The quality of the materials ensures that the tarp is reliable and durable even in adverse conditions.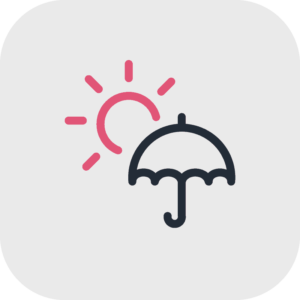 Protection from sun and rain
Campervan Tarp provides reliable protection from the sun, wind and rain. The tarp's UV-resistant silicone coating is opaque, so the tarp provides enough shade even on very sunny days. In addition, all seams of the tarp are sealed, so you can enjoy the outdoors even in the rain.
Why our customers love The Wildside Tarp
More than just a sunshade
At The Wildside, we share your passion for camping and vanlife. We not only offer high quality products, but also attach great importance to excellent customer service. See for yourself the benefits of our Campervan Tarp and check out the reviews from our satisfied customers. We believe that our tarp is the ideal product for your outdoor adventures and are happy to help you enjoy nature to the fullest. We look forward to welcoming you as our customer and will be happy to answer any questions or concerns you may have.
"Super great team and top notch support. Even with small questions/problems during our vacation, great assistance was given immediately. The tarp itself is of course also super 🙂 and has passed our first test in Italy with storm and rain and sunshine perfectly. Rarely in this day and age have I had such a good feeling about an investment, and so far I have had absolutely no regrets. Keep it up, all thumbs up."
"I saw you on Instagram and decided to buy the tarp. Ordering was easy and delivery was super fast. The tarp set is mega and the quality of the materials exactly as requested. I am absolutely thrilled and look forward to the build. Glad you are realizing your dreams and wish you continued success. Thank you for the great tarp!"
"Properly braced, we had winds up to 7 bft on and off for over 10 days last year. Good and light alternative!"
"Just got back into use - simply brilliant and worth every penny."
"Sitting right now during a spontaneous strong wind rain shower under your world tarp, at an Eiffelland built in 1967, in the middle of the dunes of Denmark. Don't know where to shoot all the happy hormones. Uh meni sänks uh lot!"
"Well, I have to admit that you have really designed a great part. At first glance, the construction is a bit confusing, but if you take your time, you quickly realize how it works and how many options there are. All the parts really make a well thought-out and high-quality impression and you can tell that you really put some thought into every part! With the help of the suction cups, the lock can also be attached well to our series high roof T 6.1, you just have to try everything once at the beginning and then fix adjust, then it will also go faster next time. So long speech, short sense - awesome stuff!!!"
"I just got the tarp and am absolutely thrilled with the quality! Super clean sewing. Everything extremely high quality. Very nice details, for example, the variable bars. The connector fits great in the T-rail of the Opel Crosscamp."
"We are super happy with the tarp and the support is überragend☺️"
for vehicles up to 7.2 ft roof height/mounting height
with & without keder rail
for vehicles from 7.2 ft roof height/mounting height
with & without keder rail
From the self-sewn prototype to the perfect solution
Our story starts with a problem we had when we were preparing for a road trip in our camper. We were looking for a suitable solution to make the most of the limited space in the camper, but we didn't find one that met our requirements. An awning was out of the question for us for various reasons.
So we decided to create our own solution by buying a sewing machine and implementing our ideas ourselves. We worked hard to develop the perfect design and finally bring it to life.
But we had not yet reached our destination. We knew we weren't the only ones looking for a practical solution to their camper adventure. That's why we looked for a product designer who could help us develop our product. We found someone who shared our vision and helped us optimize the design and select the best materials.
We were so excited about our product that we decided to launch it on Kickstarter. And with great success! We reached our target audience and raised enough money to launch our product.
Since September 2020, we are proud to have our product on the market and offer it to our customers. We are Florian & Marcel from Bern, Switzerland and we are proud to have created a solution that helps other campers to make their adventures even better. We firmly believe that our product improves the lives of our customers and we will continue to work hard to make it even better.
Here is the link to the Kickstarter campaign at that time >>>
The video shows a first prototype for the Kickstarter campaign. The current model has been further developed.